Guiding Star!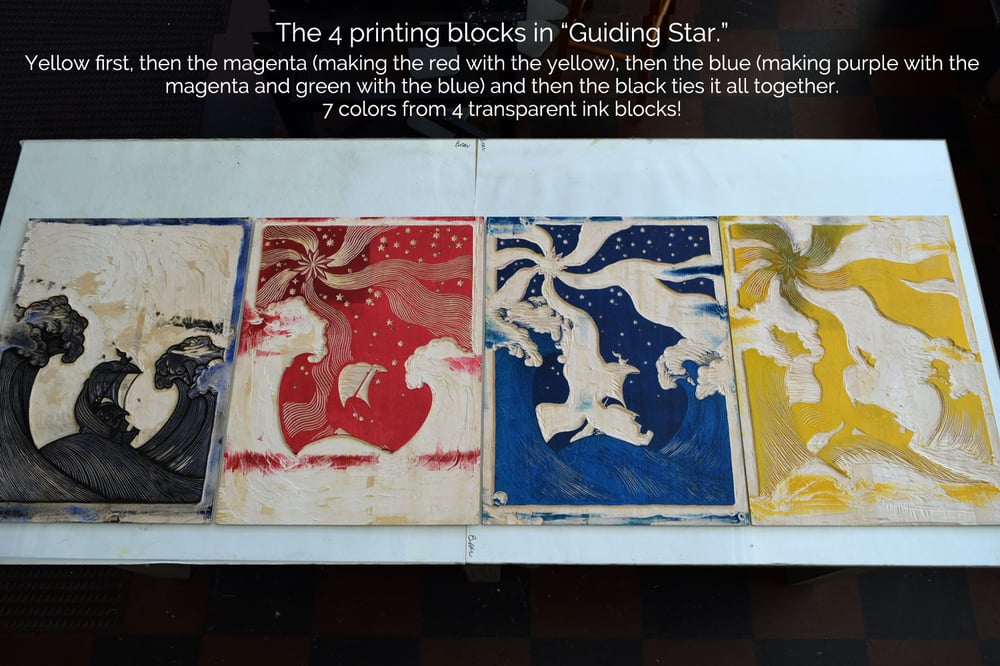 SCROLL DOWN FOR MORE DETAILED IMAGES
4 Color Woodcut Print
18"x24" Inches
Limited Edition of 200 Prints, signed and numbered.
Warm White Crane's %100 Cotton Rag paper
What is your guiding star?
FOUR color woodblocks with transparent colors combining to make SIX colors in all.
See the one minute film of the printing process below! The specked overlay of the blue layer over the red layer creates a delicately mottled sky in which the woodgrain is visible.
Printed directly from the four (cyan, magenta, yellow, black) hand-carved woodblocks it was designed on. Signed and numbered.
Mailed in a mylar sleeve with descriptor tag, ready to frame.
'Love is not love which alters when it alteration finds, or bends with the remover to remove; O'no! It is an ever fixed mark that looks on tempests and is never shaken, it is the star to every wandering bark.' - Ol' Willie Shakespeare